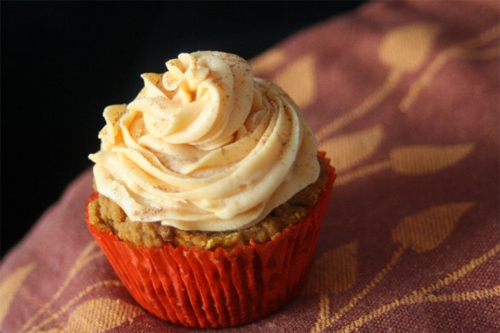 Coconut Pumpkin Pie Cupcakes Recipe photo
photo by recipe author
Servings: 12
Preparation Time: 35 minutes
Cupcakes:
Pumpkin Spiced Icing:
Preheat oven to 375 ºF. Line 12 muffin cups with paper liners.
In a large bowl combine flour, baking powder, pumpkin pie spice and salt. In a separate bowl whisk eggs, sugar, coconut milk, coconut oil and vanilla. Add pumpkin puree and combine well. Add flour mixture and stir until well combined.
Spoon batter into prepared muffin cups. Bake in preheated oven 20 to 25 minutes.
Cool for 10-15 minutes before removing from muffin tins.
For the icing:
Combine all of the ingredients in a medium sized bowl. Use a hand mixer to blend until smooth. Transfer to piping bag for icing or simply spread over cupcakes.
Notes:
*You can make your own gluten free flour mix from one of our recipes here.
* For the freshest coconut milk make homemade coconut milk. (See video at this link.)
Recipe submitted by Emily, Ottawa
Published on November 29, 2013