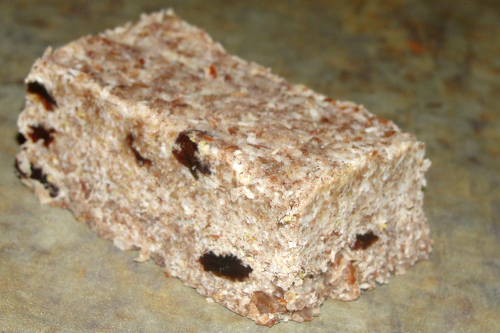 Coconut Raisin Bars
photo by recipe author
Servings: 12
Preparation Time: 15 minutes
Combine dry ingredients in a large bowl. In a small saucepan heat coconut oil and honey and allow them to melt. You don't need it to boil, just warm enough to melt. Pour melted oil/honey into dry mixture and stir to combine. You want a wet sand like consistency. Taste at this point to determine if you want more cinnamon, more honey, etc.
Pour mixture into a parchment paper lined 8X8 pan. Cover with more parchment paper and press the mixture down. Really make sure this is packed solid. Place mixture in the freezer for a couple hours. Once frozen, remove and cut with a heavy knife. Store in the refrigerator. Enjoy!
*You can grind your own almond flour by placing whole almonds in a blender/food processor and blending until you get a fine meal.
Recipe submitted by Esther, Bremerton, WA
Published on January 2, 2012