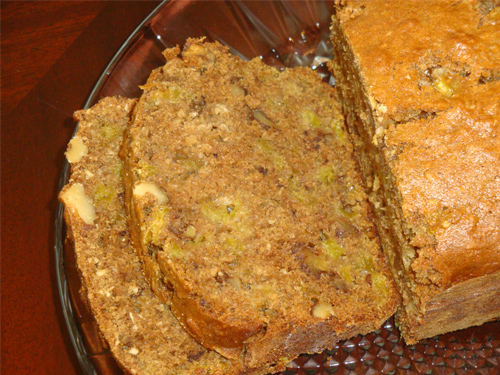 Coconut Rhubarb Walnut Bread
Photo by recipe author
I'm not a sweets person, but this bread is incredibly addictive! Moist but firm, tart, sweet (but not too sweet) and deliciously nutty. With a glass of milk – heaven.
Servings: 2 loaves
Preparation Time: 15 min
Stewed Rhubarb:
4 cups finely chopped fresh rhubarb (look for it at your local farmer's market Spring-Summer)
1/4 cup water
1 cup raw sugar
Preheat oven to 350 degrees. Grease and flour 2 9×5″ baking pans.
Sift together and set aside first 6 dry ingredients. In a medium-sized bowl, beat together eggs, whole sugar and coconut oil. Stir the rhubarb into the egg mixture. Add flour mixture and stir just until dry ingredients are moistened. Fold in the nuts and coconut. Turn into prepared pan.
Bake at 350 for 50-60 min, or until a wooden pick inserted in the center comes out clean. Cool in pan 10 min, then turn out on a wire rack to cool. Wrap in foil to store (if there's any left!).
Stewed Rhubarb
Simmer rhubarb and water in a saucepan just until rhubarb is tender. Do not cook until completely soft. Stir sugar into cooked rhubarb. Add more water only if needed to prevent sticking or burning.
Recipe submitted by Lydia, Salem, VA
Published on July 2, 2010