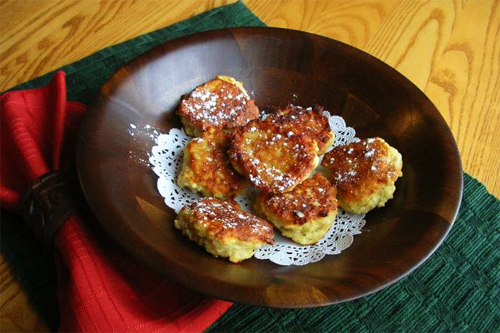 Coconut Rice Fritters
Photo by recipe author
Servings: 2 1/2 dozen fritters
Preparation time: 30 minutes
1 1/2 cup cooked long grain rice
1/4 cup warm water
1/2 teaspoon baking powder
1/2 teaspoon salt
1 teaspoon freshly grated nutmeg
1 teaspoon honey
1 cup organic unbleached all purpose flour
1/4 cup coconut flour
3 eggs, beaten
2 tablespoons coconut oil
1 tablespoon powdered sugar
Place the rice and warm water in a mixing bowl and mash the rice. Add the baking powder, salt, nutmeg and honey and mix well. Mix the two flours together, then, alternately add the flour and eggs to the rice mixture. Mix until smooth.
Heat the coconut oil in a large fry pan. Drop the rice mixture by level tablespoons into the hot oil. Cook 4 minutes on each side or until golden brown.
Transfer to paper towels and let them dry. Sprinkle with powdered sugar.
Recipe submitted by Pat, Jackson, WI
Published on October 27, 2010