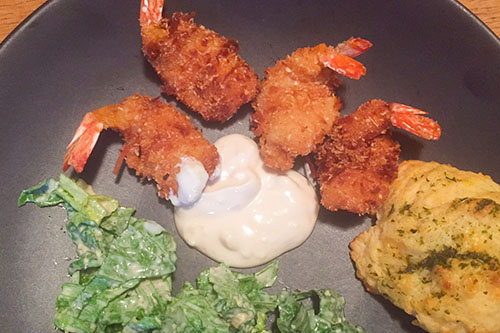 Coconut Shrimp with Pineapple Coconut Dipping Sauce
photo by recipe author
Servings: 4: 5-6 shrimp per person, or great for an appetizer
Preparation Time: 30 minutes
Pineapple Coconut Dipping Sauce:
Coconut Shrimp:
4 – 6 cups coconut oil
½ pound large fresh wild caught shrimp; peeled, deveined, and butterflied (keep them covered with a wet paper towel while assembling other ingredients)
1 ½ cups all-purpose, coconut, or sprouted spelt flour (any combo will work)
2 tablespoons whole cane sugar
½ tablespoon cornstarch
¼ teaspoon salt
1 cup milk
1 cup panko bread crumbs
½ cup coconut flakes
Place ¾ cup flour on a plate, place remaining ¾ cup flour in a bowl with sugar, cornstarch, and salt. Stir milk into flour mixture. Let rest for 5 minutes.
Combine panko and coconut on a plate.
Assemble shrimp, flour, flour/milk mixture, panko/coconut mixture.
Heat oil to 350° in a heavy pan, dredge butterflied shrimp in flour, dip in flour/milk mixture and cover with panko/coconut.
Set aside on parchment paper or plate until all shrimp are battered.
Place shrimp in oil, 6 at a time, for 2-3 minutes, turning once. Remove to wire rack or paper towels.
Continue until all shrimp are cooked.
Cheryl from Oklahoma City, OK won $50 for this recipe and photo! Submit your recipes and photos here!
Published on August 9, 2017