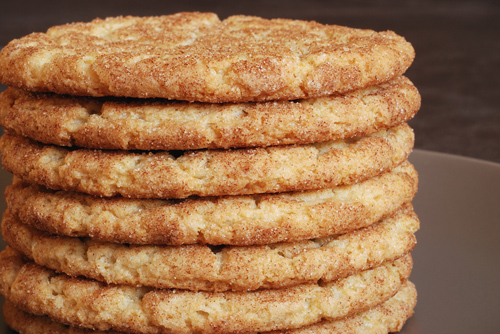 stock photo
Makes approximately 6 dozen; cut in half for smaller quantity.
Heat oven to 375 degrees.
Extra cinnamon and sugar mixed together for sprinkling
Cream together butter, coconut oil, sugar, honey, vanilla and eggs in a large mixing bowl on medium speed. Be sure to scrape the sides of the bowl consistently until smooth. Sift in flour, baking soda, salt and cinnamon. Add coconut and ground flaxseeds. Place each teaspoon of rolled dough on an ungreased cookie sheet.
Bake for 5 minutes. Remove from oven and gently press each cookie with the bottom of a glass. Now sprinkle each cookie with the cinnamon and sugar mixture and return to the oven to bake an additional 3 to 4 minutes until a light golden color. Let cool 5 minutes on cookie sheet. Move to a wire rack to finish cooling. Enjoy!
Submitted by Chris, Calamus, IA
Published on December 5, 2007