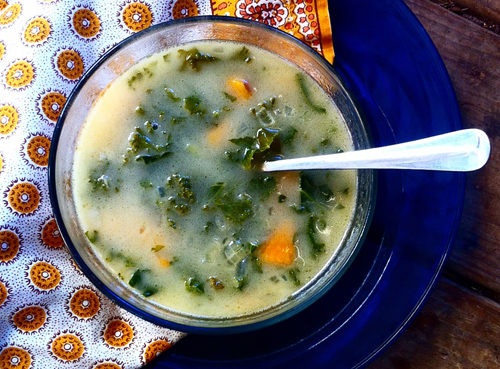 Coconut Sweet Potato Kale Soup
photo by recipe author
Servings: 10
Preparation Time: 30-45 minutes
1 small onion, chopped
1 tablespoon Tropical Traditions Gold Label Virgin Coconut Oil
2 1/2 quarts water
sea salt, to taste
1 teaspoon ground black pepper
3 cloves garlic, pressed

1/4 teaspoon cayenne pepper

2 large sweet potatoes, cubed in 1/2 inch pieces

1 large bunch kale, deveined and chopped 
In a large saucepan sauté onion in coconut oil.
Add water, coconut cream concentrate, salt, pepper, garlic, cayenne, and sweet potato to saucepan and cook over medium-high heat until potatoes are tender, about 15 minutes.
Then add chopped kale and cook until kale is softened, about 5 minutes.
Serve and enjoy.
Marijah from Columbia, KY won $50 for this recipe and photo! Submit your coconut recipes and photos here!
Published on October 14, 2015