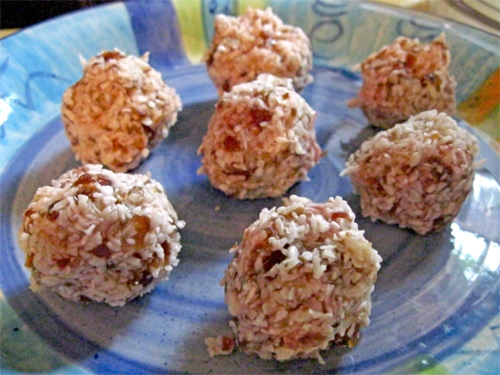 Coconut Treat Balls
photo by recipe author
Servings: 15-20
Preparation Time: 10 minutes
or for variations:
In food processor, use chopping blade to blend coconut, dates, coconut oil and spices, until dates are finely chopped in mixture.
If using nuts you can add these now to the food processor and may not need to add any fruit spread to bind balls.
If you are not using nuts put the mixture or part (if you want to make different flavors) of the mixture in a bowl. Mix in any extra ingredients you like at this point.
Add fruit spread (if needed) and mix. The mixture should be slightly sticky when you touch it but not wet. (Once you refrigerate the balls they are not sticky to touch.)
Form the mixture into balls about the size of a walnut and put on a plate, refrigerate and enjoy.
Recipe submitted by Karen, Turnersville, NJ
Published on June 6, 2011