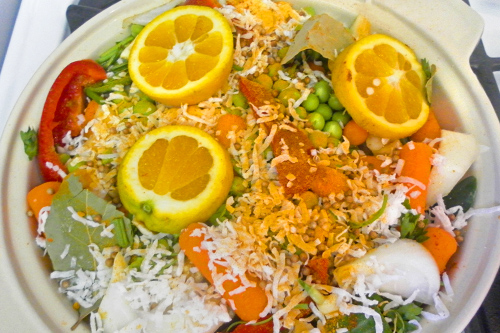 Coconut Vegetable Terrine
photo by recipe author
Servings: 8
Preparation Time: 20 minutes plus oven
2 minced garlic cloves
1 teaspoon minced parsley
1 teaspoon minced oregano
1/8 teaspoon nutmeg
1 bay leaf
1 teaspoon olive or coconut oil
1 red bell pepper, cut in strips
1 cup of yellow onion, in strips
1 cup squash, in strips
1 cup zucchini, in strips
1/2 cup green peas
1/2 cup coconut milk*
1/2 cup dried flaked coconut
1/2 orange (optional)
Mix the garlic, parsley, oregano, salt, pepper, and nutmeg.
Lightly oil a terrine or an oven proof dish with olive or coconut oil.
Preheat the oven at 390 degrees F.
Place the vegetables in the dish in alternate layers, sprinkling each layer with the spice mix.
After the last of vegetables and spices, pour the coconut milk and sprinkle with the coconut. Top with orange slices.
Cover and bake until vegetables are tender. About 15 minutes.
Enjoy!
Recipe submitted by Dvorah, Burbank, CA
* For the freshest coconut milk make homemade coconut milk. (See video at this link.)
Published on August 17, 2011