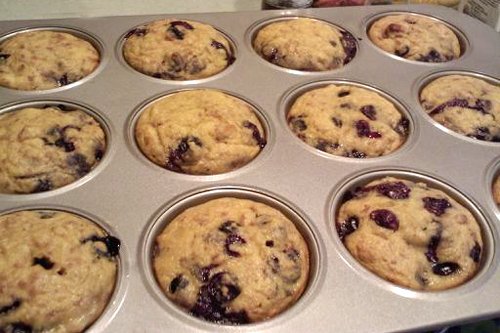 example photo shown
Filled with wonderful coconut, fruit and fiber. I eat them for quick energy before each of my workout sessions – and they only take minutes to make.
Preheat oven to 400 degrees. Grease 18 muffin tins with oil, or use muffin/cupcake papers. Set aside.
Mix the first 7 ingredients together in a bowl and set aside.
Over low heat slowly melt the butter, coconut oil, and coconut cream concentrate together. When melted (but not hot!) remove from heat and add sugar. Stir until dissolved. Beat in eggs one at a time until well blended and add vanilla extract. Add dry ingredients to egg mixture all at once; stir until well incorporated. Stir in frozen blueberries.
Fill muffin tins using a cookie or ice-cream scoop so each cup has exactly the same amount of batter – or a tablespoon if you don't have a scoop – fill each muffin tin or paper 3/4 full.
Bake for 15-20 minutes, rotating pan at the 10 minute mark. Cool on wire racks. These freeze well, and defrost well.
* To make vanilla salt (lovely in all baked goods), save any vanilla beans used to make ice-cream. Wash thoroughly to remove any cream, and then pat dry. Roll in a clean dry paper towel, and allow to sit out for a few days until bone dry. Add to a small food processor or blender with sea salt, and process until the vanilla is in tiny pieces with the salt.
Recipe submitted by Lisa, Providence, RI
Published on October 19, 2008