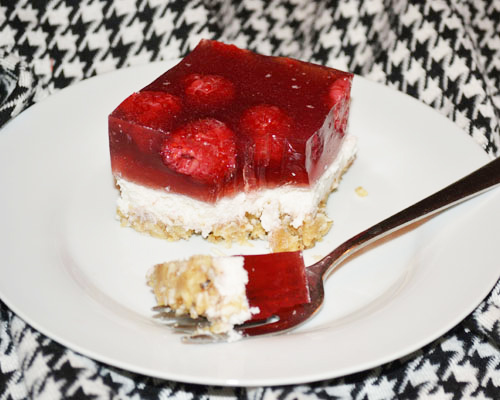 Coconut Cream Sweetheart Squares
photo by recipe author
Servings: 9
Preparation Time:  3 hours
Crumb Layer:
Creamy Layer:
Gelatin:
4 cups 100% fruit juice, of your choice
3 tablespoons grass-fed gelatin
1 cup fruit (optional)
For the Crumb Layer:  Preheat oven to 400 degrees ºF. Place walnuts in a blender or food processor. Grind until walnuts resemble a coarse meal. Add the honey, coconut oil, and salt. Mix. Finally, add the coconut flakes and mix until combined. Press into 8×8 inch, glass pan. Bake for 8-10 minutes or until slightly brown on top. Let cool. Place in the freezer to chill.
For the Creamy Layer:  Place 1 cup coconut cream in a small sauce pan over medium heat. Heat until considerably hot, but not boiling. Remove from heat and sprinkle the gelatin over the top and whisk until dissolved. In vita-mix combine warm coconut cream with the remaining cream, honey and vanilla. Blend. Cool to room temp.
For the Gelatin:  In mixing bowl pour 1 cup of juice and sprinkle with the gelatin. Let sit. Heat 3 cups juice until almost boiling. Combine the hot juice with the gelatin mixture and whisk until dissolved. Cool to room temp.
To assemble:
Remove crumb layer from the freezer and spread on the creamy layer. Place in the refrigerator. When gelatin is room temp. and the creamy layer has chilled and set, pour the gelatin on top. Chill until gelatin has set.
Serve and enjoy!
Caroline from Sterling, KS just won $50 for this recipe and photo! Submit yours here.
Published on February 4, 2015