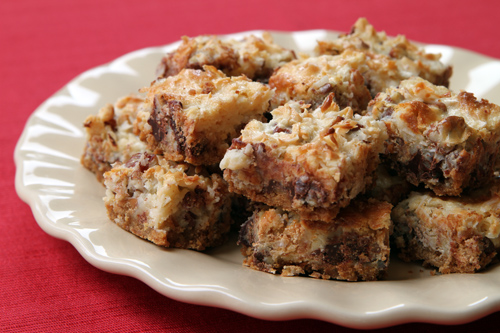 Coconutty 7 Layer Bars
Prepared by Sarah Shilhavy, Photo by Jeremiah Shilhavy
Servings: 24
Preparation Time:
1/2 cup butter, melted
1 1/2 cups graham crackers crumbs
6 oz dark chocolate chips
6 oz butterstotch chips (or half white chocolate and half peanut butter chips)
1 cup chopped walnuts or pecans
1 cup flaked coconut
14 ounces homemade sweetened condensed milk*
Preheat oven to 350 degrees F.
Lightly grease a 9×13 or 12×13 inch pan with coconut oil. Pour melted butter into pan and evenly sprinkle graham cracker crumbs over it.
Sprinkle with chocolate chips and butterstotch. Sprinkle on nuts then add coconut last. Pour sweetened condensed milk evenly over everything.
Bake for 20-30 minutes. Top should be golden brown. Cut into small squares and refrigerate.
* You can make your own sweetened condensed milk
with our recipe here.
Recipe courtesy Sarah Shilhavy
Published on December 15, 2010