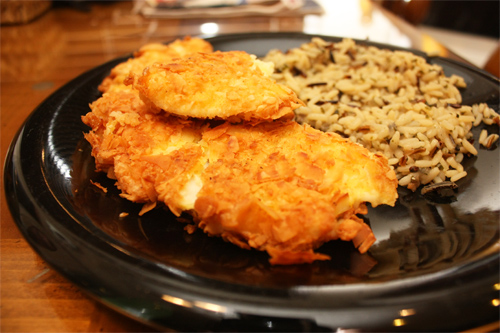 Gluten Free Coconutty Halibut
photo by recipe author
This recipe was concocted from all things coconut provided by Tropical Traditions. A man once set out to try to coconut up his dinner to the eXtreme and the following recipe was dreamed up, created, labored over, tasted, refined, and loved by all… Here it is!
Servings: 4-6
Preparation Time: 10 minutes
For the Sauce:
For the Fish:
SAUCE:
In a small sauce pan add the Tropical Traditions coconut cream concentrate, lime juice, water, fish sauce, onion, jalapeno, and chili powder. Bring to a rolling boil while stirring constantly. Reduce heat and simmer for 15-20 minutes. Add Tropical Traditions coconut flour to thicken sauce. Remove from heat and let sauce stand for 5-10 before serving.
FISH:
Spread coconut flour in a shallow dish. Whisk your eggs in a wide bowl and put shredded coconut flakes in another shallow dish. Add the old bay seasoning, white pepper, fresh ground black pepper, cumin, and thyme to the shredded coconut and mix together with your hands.
Heat coconut oil in a skillet to medium. Rinse and pat down fish fillets. Roll in coconut flour, dip in egg and then coat with the coconut flake mixture. Add to hot oil and cook until the coconut fillets are a nice golden brown. Carefully flip the coconut fish fillets to evenly cook the other side. You can keep these warm in the oven while you're cooking up all of your fillets.
Prepare to overload your taste buds with coconut goodness… drizzle sauce on top of fried fish and enjoy! If you like rice, this also goes really well on top of a bed of rice… if you're into that sort of thing! 🙂
Recipe submitted by Dan, Denver, CO
Published on November 25, 2011