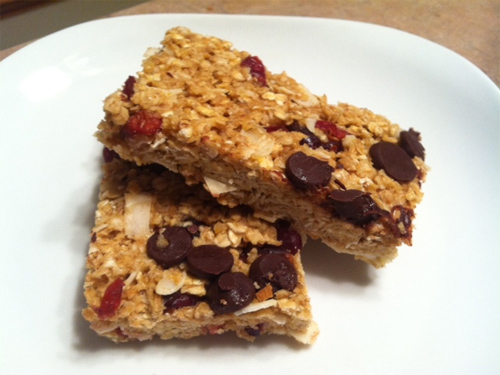 Cranberry Chocolate Coconut Granola Bars Recipe
photo by recipe author
Servings: 10-12 bars
Preparation Time: 10 minutes
Preheat oven to 350 degrees ºF. Lightly grease a 9×13-inch pan.
Mix dry ingredients in a bowl. Whisk syrup, eggs, oil and water in a separate bowl. Combine wet and dry ingredients and mix well.
Press mixture into prepared pan with a wet spatula. Bake for about 12 to 15 minutes or until the edges begin to brown. Let cool completely before slicing.
Store in an airtight container in the refrigerator for up to a week or freeze.
Recipe submitted by Alicia, Chardon, OH
Published on June 14, 2013