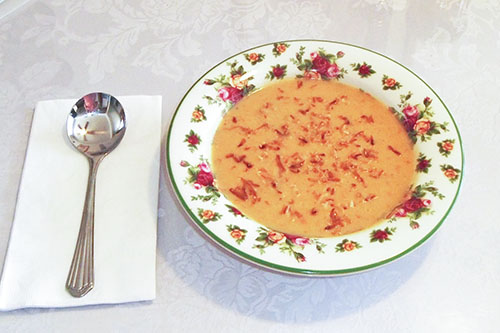 Cream of Carrot and Red Lentil Soup with Dairy Free Option
photo by recipe author
Servings: 6-8
Preparation Time: Approx. 50 minutes, including cooking time
1/4 cup virgin coconut oil
1 large onion, diced
1 pound carrots, sliced
1 1/2 cups red lentils, rinsed and drained
2 teaspoon coriander
2 teaspoons cumin
6 cups chicken broth*
2 cups whole milk or fresh coconut milk**
Himalayan pink salt, to taste
black pepper, to taste
Optional garnishes: dried coconut flakes or lightly toasted or fresh minced parsley
*Make Your Own Chicken Broth – recipe here.
**Make Your Own Fresh Coconut Milk – for the freshest coconut milk make homemade coconut milk. (See video at this link.)
In a large stockpot or Dutch oven, heat the coconut oil over medium heat until hot then add the onions and carrots and sauté about 7 minutes, stirring frequently.
Add the red lentils, coriander and cumin, mixing well. Cook and stir for 1 minute.
Add the chicken broth and bring to a boil. Cover, reduce heat to low and simmer 20-25 minutes, or until the lentils and carrots are tender.
Remove the pot from the heat and cool slightly.
Puree the soup in the pot using an immersion blender or in batches in a food processor or blender.
If you did not use an immersion blender, return the processed soup to the pot. Stir in your milk of choice, season to taste with salt and pepper, and reheat gently to the desired serving temperature, being careful not to boil the soup.
Garnish each serving with a sprinkling of toasted coconut flakes or fresh minced parsley, if desired.
Note: The soup in the photo was made using whole milk and garnished with toasted coconut.
Stephanie from Sierra Madre, CA won $50 for this recipe and photo! Submit your recipes and photos here!
Published on March 18, 2017