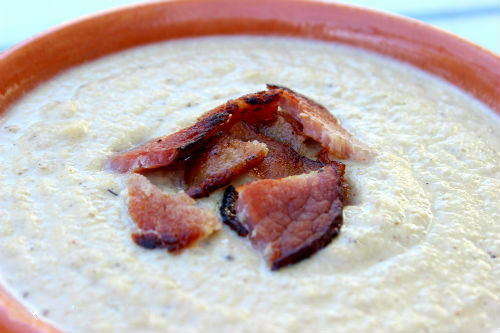 example photo shown
2 tablespoons coconut oil
2 tablespoons coconut flour
16 oz rice milk
14 oz coconut milk*
1/4 teaspoon turmeric
1 teaspoon Dijon mustard
1 teaspoon Himalayan salt
1/8 teaspoon ground black pepper
1 head of cauliflower, steamed and drained
2 tablespoons nutritional yeast, optional
Shredded parmesan cheese, to taste
Tamari sauce (optional)
Place the coconut oil in a medium sized saucepan, over medium heat. When melted, add coconut flour and stir until lightly browned. Add rice milk and stir. Stir in coconut milk.
When those ingredients are warm, stir in the salt, pepper, turmeric, and mustard, and mix until well combined.
Cut steamed cauliflower into small chunks and add to soup pot. Stir frequently and when all is very hot, lower the temperature to medium low, and add in the parmesan cheese and tamari to taste.
When ready to serve, top with nutritional yeast (if desired), and have a feast.
*Use 1 teaspoon of coconut cream concentrate for every 6-8 oz of water for coconut cream milk. Mix together and use as directed.
Recipe submitted by Ameena, Worcester, MA
Published on March 8, 2009