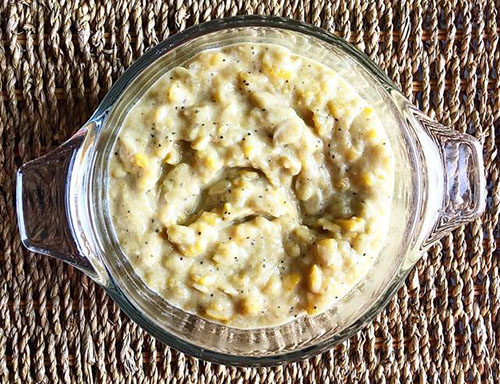 Creamed Summer Squash
photo by recipe author
Servings: 8-10
Preparation Time: 30-35 minutes
3 tablespoons coconut oil
2 medium onions, chopped
10 medium yellow summer squash, washed and sliced
2 tablespoon Himalayan salt, or to taste
3 teaspoons black pepper, or to taste
1/4 cup grass-fed butter
1 cup heavy cream
4 ounces cream cheese
Saute chopped onion in coconut oil in a large cast iron skillet until tender, but not browned. Add sliced squash and salt and pepper. Stir. Place lid on skillet and cook over medium heat for about 30 minutes or until squash is very tender, stirring occasionally.
After squash is thoroughly cooked, remove lid and stir. Add butter and mash squash and onions using a potato masher.
Add heavy cream and cream cheese, mixing thoroughly. Cook for an additional 5 minutes on medium-low heat until creamy and thick.
Adjust salt and pepper to taste. Serve and enjoy.
Recipe by Lynelle. Photo by Orissa. Submit your recipes and photos here for a chance to win $50!
Published on July 10, 2017