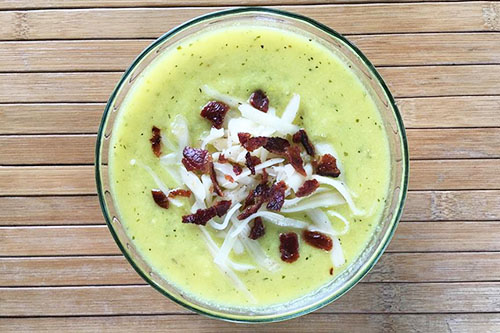 Creamy Cauliflower Soup
photo by recipe author
Servings: 8-10
Preparation Time: 45 minutes
2 heads cauliflower florets, steamed
4 cups chicken broth or water
1.5 – 2 cups coconut milk*
2 tablespoons coconut oil
2 tablespoons grass-fed butter
2 tablespoons Himalayan salt
1 tablespoon black pepper
1 tablespoon turmeric powder
1 tablespoon parsley flakes (or fresh parsley, chopped)
2 teaspoons garlic powder (or 2-3 fresh cloves garlic, pressed)
juice 2 lemons
Blend steamed cauliflower with water, divided in several batches if needed. Add to soup pot. Add coconut milk and seasonings. Warm to desired temperature. Add fresh squeezed lemon juice.
Serve in bowls with garnish, if desired, or enjoy as is.
Recipe by Lynelle. Photo by Orissa. Submit your recipes and photos here for a chance to win $50!
Published on June 26, 2017