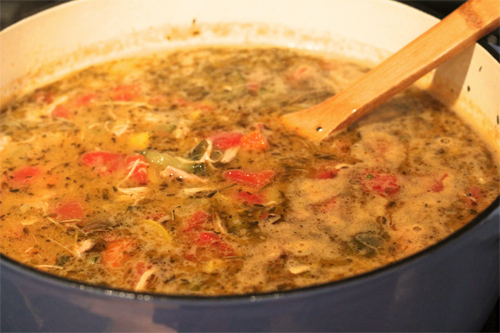 Creamy Chicken Soup Recipe
photo by recipe author
Servings: 6
Preparation Time: 1 hour
3 lb. whole chicken, cooked and shredded
1 tablespoon coconut oil
1 onion, chopped
4 cloves garlic
1/4 – 1/2 cup butter
1/8 – 1/2 cup coconut flour
2 cups chicken stock, more if needed
16 ounces stewed tomatoes, juices included
2 zucchini, chopped
2 yellow squashes, chopped
2 carrots, chopped
2 celery, chopped
14 ounces coconut milk (full fat, not light)*
cilantro
avocado
Season chicken well and cook, let cool, and pull all meat off the bones and shred. Set aside.
In a large pot, melt coconut oil in a pan, cook onion until it begins to soften, add garlic and cook for a few minutes.
Add butter and stir flour in slowly to create a paste (making a roux). The more flour and butter you add the thicker the soup. Whisk in chicken stock. If it is too thick, add more stock.
Add in all veggies and the shredded chicken. Season to taste with seasoning such as salt, pepper, oregano, thyme, sage, rosemary, basil, etc. Let simmer as long as possible, minimum half hour.
Shortly before serving, add coconut milk to make it creamy. Let simmer 5-10 more minutes and serve!
Best when topped with chopped cilantro and avocado.
* For the freshest coconut milk make homemade coconut milk. (See video at this link.)
Recipe submitted by Chelsea, Chicago, IL
Published on February 27, 2013