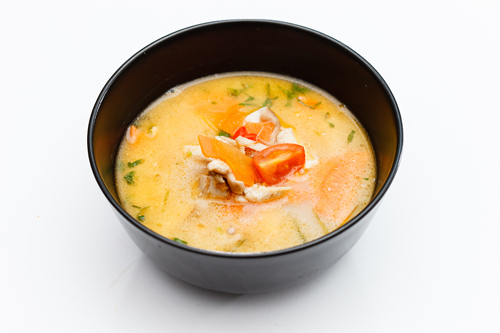 stock photo
30 oz coconut milk*
2 teaspoons lime juice
1/8 cup mild sweet chili sauce (Thai sauce)
3 cloves garlic, crushed
1 quart chicken broth
1 3-inch ginger root, peeled and sliced
1 tablespoon soy sauce (fish sauce is also good)
Coconut oil, as needed
2 cups raw chicken, cubed
2 green peppers
10 medium sized mushrooms, sliced
Simmer all ingredients except chicken and green peppers together in a medium sized pot.
Meanwhile, heat coconut oil in a skillet. Sauté chicken, green peppers, and mushrooms and season with salt and pepper if desired. Add to soup and simmer until ginger flavor is strong.
You could also add carrots, or other colored peppers to add variety.
*To make Coconut Cream milk stir approximately 1 teaspoon of coconut cream concentrate to every 6 oz of water or make Homemade Coconut Milk.
Recipe submitted by Delight, Burns, OR
Published on April 29, 2009