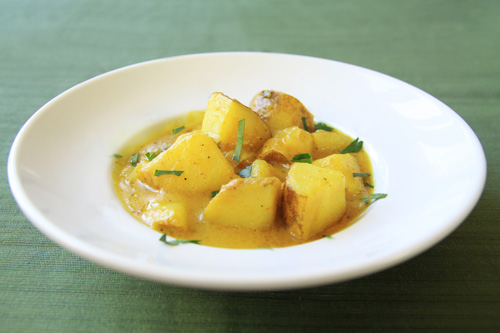 Creamy curried coconut potatoes
Prepared by Sarah Shilhavy, Photo by Jeremiah Shilhavy
Servings: 4-5
Preparation time: 10 minutes
Heat oils in a large skillet over medium heat. Add potatoes and cook until slightly browned. Add sliced onions and cook for about 3 minutes, turning constantly.
Whisk the seasoning and coconut milk together. Pour over potatoes and bring to a simmer.
Lower heat to medium-low or low and let simmer until potatoes are tender, about 15-25 minutes. Stir occasionally as needed.
Serve as a side dish for meat or fish dishes and garnish with parsley if desired.
*Use 1 teaspoon of coconut cream concentrate for every 6-8 oz of water for coconut cream milk. Mix together and use as directed or make homemade coconut milk.
Recipe submitted by Gloria, Fort Worth, TX
Published on October 22, 2009