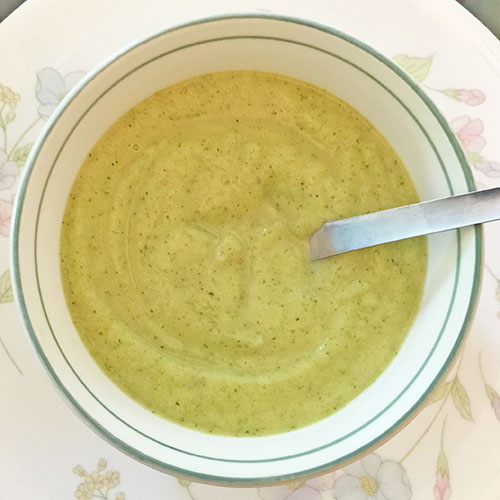 Creamy Dairy Free Coconut Zucchini Soup
photo by recipe author
Servings: 3-4
Preparation Time: 45 minutes
2 tablespoons virgin coconut oil
1/8 teaspoon ground black pepper
1 large garlic clove, chopped
1 medium onion, chopped
1.5 pounds zucchini, chopped
salt to taste
1.5 cups vegetable stock or chicken broth*
1 tablespoon coconut cream concentrate
Make Your Own Chicken Broth:
*Chicken broth is super simple to make. Follow the recipe here.
Heat a sauce pan on low-medium heat and add coconut oil. Once the oil is hot, add ground pepper, garlic and onions. Stir immediately to avoid burning the pepper. Cook until the onion is soft, stirring intermittently. Add chopped zucchini and salt. Cover and cook until the zucchini is softened. Then add the vegetable stock or chicken broth. Let it simmer for 2 minutes.
Let it cool, then puree it using a blender, until smooth.
Transfer to the saucepan again, add in the coconut cream concentrate and stir well. Warm it slightly. Season with pepper and serve.
Sheetal from Foster City, CA won $50 for this recipe and photo! Submit your recipes here!
Published on September 14, 2016