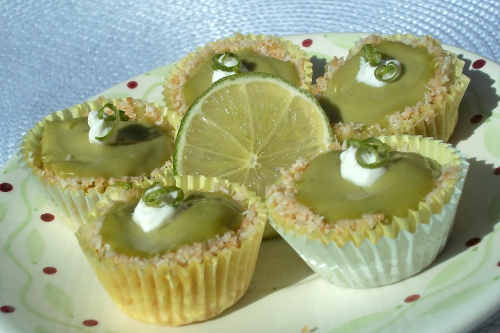 Creamy Dairy Free Lime Pie Recipe
photo by recipe author
Servings: 10-14
Preparation Time: 4 1/2 hours
Toasty Coconut Crust:
Filling:
2 avocados, about 4-5 oz. apiece
1/2 cup liquid coconut oil
1/2 cup honey
1/2 cup fresh lime juice (or use the juice of 3 limes and make up the difference with water)
2 teaspoons lime zest, or 6-8 drops lime essential oil
2 tablespoons Coconut Cream Concentrate (optional but softens the sharpness a little)
1 teaspoon vanilla extract
Pinch of salt
Crust:
Pull out an 8″ pie pan, OR for tartlets, line 30 mini-muffin tins with paper liners (optional, for easier removal).
Stir together the honey, coconut oil, and salt. Add coconut and mix until smooth. Press into the pie pan or muffin tins. For the latter, use 1 tablespoon per mini muffin tin and press.
Put in the freezer for 10 minutes, while you make the filling. For easiest removal, take the mini crusts out of the pan (still in the liners) when firm, before adding the filling.
Filling:
Put all the filling ingredients in a blender or food processor. Puree until smooth. Pour into your prepared crust. For tartlets, use a mini scoop to put 1 tablespoon filling in each little crust.
Chill at least four hours, until firm. (To speed it up, do 30 minutes in the freezer instead.) Let sit at room temperature for 10 minutes if you want the filling a little softer.
Garnish with a dollop of coconut yogurt (or sour cream if dairy's OK for you) and a bit of lime zest.
Makes one 8″ pie or about 30 tartlets.
Recipe submitted by Rhonda, South Jordan, UT
Published on January 16, 2013