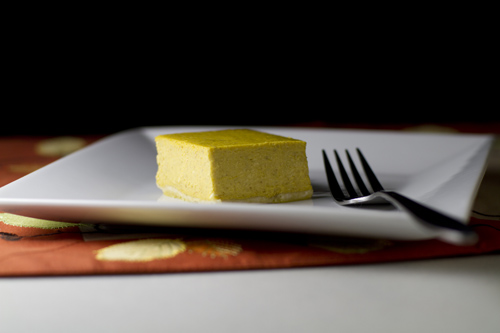 Creamy Pumpkin Cheesecake Bars Recipe
Prepared by Sarah Shilhavy Photo by Jeremiah Shilhavy
We have a new recipe and video for you all today, and it's perfect for this time of the year, being pumpkin and all.
It's pretty easy too, if you know what you're doing. Cheesecakes can be tricky. They'll crack if too much air is whipped into the batter, won't mix well if the ingredients are too cold, refuse to be creamy if a certain ratio is off, and just be generally irritating among other things. But all that can be avoided, if you:
1. Follow the recipe as written. If you decide to substitute this for that and use that thing instead of the original thing and it explodes, you alone will be responsible for that. Just saying…
2. Have all filling ingredients at room temperature. Especially the cream cheese, sour cream, eggs and pumpkin. The warmer those ingredients are, the easier the batter will mix and become silky smooth.
3. Use a paddle attachment. If you have one. It won't whip air into the batter as much and thus avoid over mixing.
4. Mix just until combined. Don't let the mixer keep running if everything is already well blended, and try to keep it on a low setting because high speed = air and air = tiny little bubbles that will cause the cake to crack during baking. Basically, air + cheesecake = not good.
This dessert should be a hit with both those who like and dislike pumpkin. It has just enough pumpkin to keep the fans happy but not enough for it to be overwhelmingly pumpkin-y. When you bite into it, you get just a hint of spice and subtle pumpkin laced throughout the silky, creamy, dense cheesecake.
If you're still a little lost or uncertain about making this, the video will take you through it in a step by step process, and you'll also get to see all the guidelines in use.
Have fun!
Creamy Pumpkin Cheesecake Bars
Servings: 20
Preparation Time: 10 minutes
Filling:
Gluten Free Shortbread Crust:
Preheat oven to 350° F. Lightly grease a 9×13 pan with coconut oil.
For the shortbread, cream the butter and sugar until well blended. Add flours and mix well. Dust fingers with cornstarch and press into prepared pan evenly.
Beat cream cheese, sugar, cinnamon and nutmeg in the bowl of an electric mixer just until well blended and creamy. Add sour cream and vanilla, blend well. Mix in eggs and add pumpkin. Do not overbeat and try not to whip air into the batter.
Pour filling into pan and bake for 40-45 minutes. Top should still jiggle slightly when you shake the pan.
Note – For a non gluten free crust, use:
Proceed with crust instructions.
Recipe courtesy Sarah Shilhavy
Published on November 5, 2012