Hi there!
Do you need a good pumpkin pie recipe for Thanksgiving that doesn't contain sweetened condensed milk? If so, I have one for you today. It's super creamy, not too sweet, the spices won't punch you in the face, and you're going to love it. Just don't forget the whipped cream.
When you make this pie, remember 3 very important things:
One: Make the crust shell high, as this has a lot of filling and the crust will shrink while baking.
Two: Make sure your cream cheese, pumpkin, eggs, and heavy cream are at room temperature. Especially the cream cheese. This allows all the ingredients to blend and not leave any stubborn clumps.
Three: Enjoy! Devour. Share. With lots of whipped cream. Did I mention that already?
Stay tuned for more fall themed recipes this week! There's lots more coming, so check back often.
Sarah 🙂
Creamy Pumpkin Pie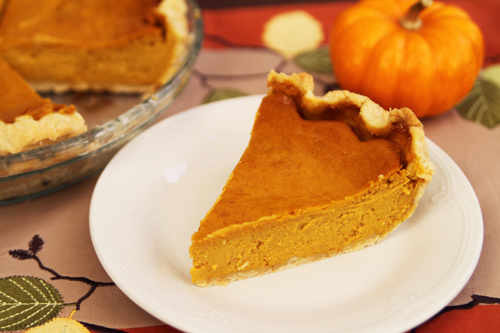 Creamy Pumpkin Pie
Prepared by Sarah Shilhavy, Photo by Jeremiah Shilhavy
Preheat the oven to 350 degrees F.
Place prepared pie crust into a 9 inch pie plate and decorate edges as desired. Place in refrigerator while oven is preheating. Let rest for about 2 minutes out a room temperature before baking.
Prick shell all over generously with a fork and fill with pie weights or spoons and/or forks (to prevent shrinking). Bake for 15-20 minutes, until crust is drier and beginning to slightly brown. Remove weights and set aside.
Meanwhile, beat cream cheese with an electric mixer. Add pumpkin, spices and salt and beat until combined. Beat in sugar. Add remaining ingredients and beat until well combined.
Pour the filling into the baked pie crust and bake in preheated oven for 50 minutes, or until center is just set (it's okay if it still jiggles a little). Cool completely and serve with freshly whipped cream.
Recipe courtesy Sarah Shilhavy
Published on November 8, 2010