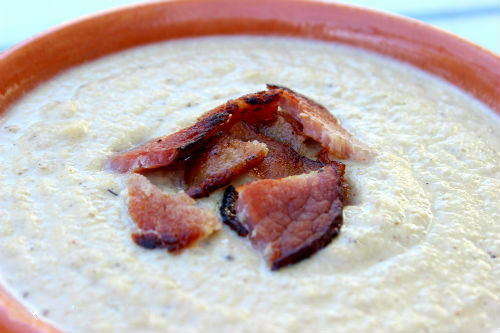 Creamy Roasted Cauliflower and Mushroom Soup Recipe
photo by recipe author
Servings: 2-3
Preparation Time: 20 minutes
1 head cauliflower, cut into pieces
2 tablespoons coconut oil
2-3 pieces bacon (optional)
2 tablespoons bacon grease, butter or coconut oil
1/4-1/2 cup white onion, diced
2 garlic cloves, minced
1 teaspoon fresh thyme or 3 teaspoons dried
8 oz mushrooms, sliced
1/4 cup white wine
3 cups homemade chicken broth
3/4 cup full fat coconut milk*
2 tablespoons grass-fed butter (optional)
Preheat oven to 400 degrees F.
Place the pieces of cauliflower in a bowl and coat with the 2 tablespoons of coconut oil. Place single layer on a parchment lined cookie sheet and sprinkle with salt and pepper and roast at 400 for 25-30 minutes.
Cook the bacon in a skillet, reserve the grease, cut the bacon into pieces and set aside.
Place the bacon grease, coconut oil or butter in a large saucepan with the onion. Sauté the onions until slightly browned. Add the garlic, thyme and mushrooms. Sauté until the mushrooms are tender, about 5-10 minutes.
Add the white wine and de-glaze the pan. Add the chicken broth and cauliflower and bring to a boil. Reduce heat to a simmer for 5 minutes.
Place the soup, coconut milk and optional butter in a food processor or blender and combine until desired consistency. Salt and pepper to taste.
Sprinkle the bacon pieces on top (optional).
* For the freshest coconut milk make homemade coconut milk. (See video at this link.)
Recipe submitted by Kate, Highlands Ranch, CO
Published on January 14, 2013