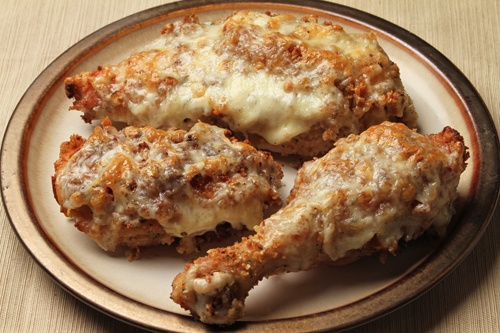 Crispy Cheesy Baked Chicken
Prepared by Sarah Shilhavy, Photo by Jeremiah Shilhavy
Servings: 6
Preparation Time: 12 minutes
Season chicken with salt, lemon pepper and Italian seasoning. Toss to mix evenly. You can now either proceed with the recipe or refrigerate the chicken for a few hours until needed.
Preheat oven to 375 degrees F.
Dip each chicken piece individually into the beaten eggs and roll in bread crumbs to coat. Place in a large glass pan. Repeat with each piece. Dot the chicken pieces with the coconut oil and butter.
Bake in preheated oven for 30-45 minutes or just until chicken is cooked and no longer pink (you can leave it just a little undercooked for the next step).
Top with shredded cheese and return to oven. Turn temperature up to 450 degrees F (don't wait for it to preheat) and bake for 5-10 minutes. Cheese should be browned and bubbly.
Recipe courtesy Marianita and Sarah Shilhavy
Published on December 31, 2010