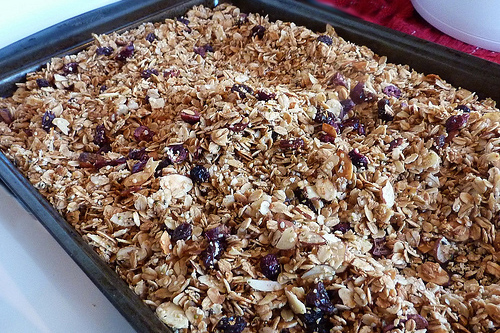 example photo shown
Dry ingredients:
Wet ingredients:
Mix together the dry ingredients in a large bowl and set aside. Melt coconut oil. Add rice syrup and vanilla extract to the coconut oil. Pour mixture over the dry ingredients and gently mix the wet ingredients into the dry. It will take a while until it is well distributed.
If you like moist granola you can eat it at this stage. If you like it dry it can be baked at 300 degrees for 15 – 30 minutes. Set the timer to stir and check it every 10 minutes. Add the dried fruit after it has baked.
If you like sweeter granola, replace some of the rice syrup with honey.
Recipe submitted by Kristel, Traverse City, MI.
Published on May 28, 2008