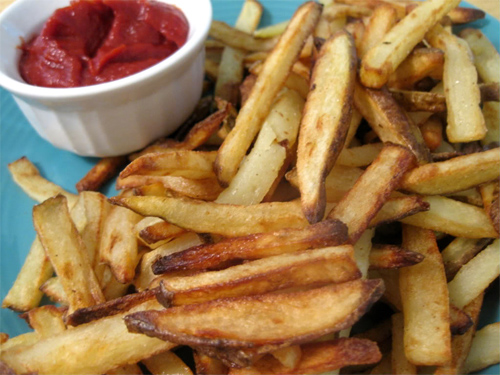 Crispy Coconut Oil French Fries
photo by recipe author
Servings: 6
Preparation Time: 15 minutes
2 1/2 pounds organic russet potatoes, peeled and sliced into desired french fry size slices
1-1 1/2 cups coconut oil
sea salt
1. Soak peeled and cut potatoes in a bowl of room temperature water for 8-12 hours. Pat dry with paper towels.
2. Using a large skillet, heat coconut oil to 300 degrees. Fry potatoes until they are just barely cooked and still limp. Remove fries from oil and let cool.
3. Bring coconut oil up to 375 degrees. Fry French fries a second time until golden brown and crispy. Season with sea salt. Serve and enjoy!
Recipe submitted by Tiffany, Junction City OR
Published on March 14, 2012