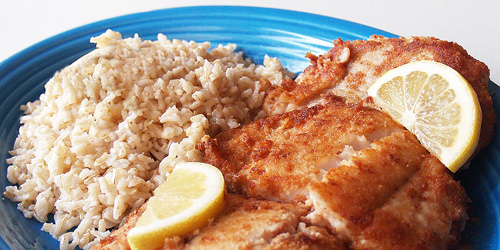 stock photo shown
Our favorite way to eat fresh fish:
4 fish filets (trout, redfish, red snapper, flounder, or any white fish)
1 cup buttermilk (or 1 cup milk with 1 teaspoon coconut vinegar stirred in to create "buttermilk")
1/3 cup coconut flour
1/4 cup corn meal or seasoned fish fry mixture
1/3 cup panko (Japanese breadcrumbs)
dash cayenne pepper, optional
4 tablespoons coconut oil, divided
Fresh lemon juice (juice of 1-2 lemons)
Soak filets in buttermilk and mix all flours and spices together. Dredge filets in flour mixture, pressing the mixture into the fish; turn and dredge other side.
Heat 2 tablespoons coconut oil on medium heat in a medium sized skillet. Place fillets in hot skillet and cook until light brown on one side. While turning, add the other 2 tablespoons of coconut oil and brown on other side, or until fish is opaque and flakes easily. Squeeze fresh lemon juice over fish. Serve immediately!
Recipe submitted by Bonnie, Raymondville, TX
Published on August 13, 2008