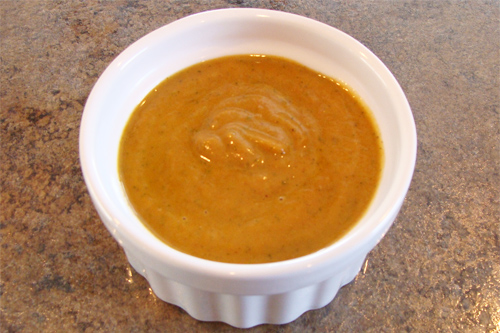 Curried Carrot Soup
photo by recipe author
Servings: 8
Preparation Time: 45 minutes
3 tablespoons organic butter or coconut oil
2 onions, chopped
2 lbs carrots, peeled and chopped (or use baby carrots)
Juice from 2 oranges
1-2 teaspoons freshly grated ginger
1 tablespoon garam masala
1/2 teaspoon ground nutmeg
1 handful fresh cilantro, chopped
1 quart of chicken broth (beef will work, too)
14.5 ounces coconut milk*
Melt butter or ghee over medium heat and sauté onions until soft.
Add carrots, orange juice, spices and broth and simmer until the carrots are tender (20-30 minutes).
Add salt, pepper and fresh cilantro.
Use an immersion blender and puree until smooth. Or puree in batches using a regular blender.
Stir in coconut milk and add more salt/pepper to taste if needed.
* For the freshest coconut milk make homemade coconut milk. (See video at this link.)
Recipe submitted by Leslie, Amsterdam, NY
Published on February 13, 2012