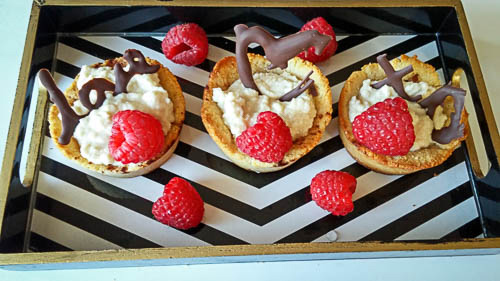 Cutesy Cannoli Cups
photo by recipe author
Servings: 8
Preparation Time: 2 hours
The Crust Cups:
The Filling:
1 cup raw almonds – must be soaked for at least 4 hours & drained before use
1 tablespoon arrowroot starch
2 tablespoon raw honey
2 teaspoon vanilla
1/2 teaspoon lemon juice
Tip:  The filling can be made the day before to give it more time to set up.
Preheat oven to 400 degrees °F
Crust Cups:
In a mixing bowl, combine almond flour, coconut flour, arrowroot starch and salt.  Cut in shortening, vanilla and honey until crumbly.  Slowly pour in milk until mixture forms a dough ball – adding more milk if necessary.
Press pieces of dough into greased muffin tins.  Bake for about 12-15 minutes or until slightly brown.  Remove from oven and let cool completely.
Filling:
In a high powered blender, combine ingredients for filling and puree at least 3 minutes or until completely smooth.  The longer you blend, the less grainy the texture will be.
Refrigerate filling for at least 2 hours.
Spoon a dollop of filling into each prepared cup and top with drizzled chocolate, cocoa powder or berries.  Enjoy!
*You can grind your own almond flour by placing whole almonds in a blender/food processor and blending until you get a fine meal.
Courtney from Columbus, KS just won $50 for submitting this recipe and photo!  Submit yours here!
Published on March 6, 2015