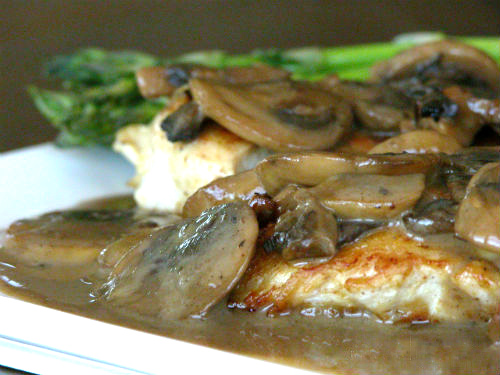 Dairy Free Chicken with Mushroom Cream Sauce Recipe
photo by recipe author
Servings: 4
Preparation Time: 30 minutes
Heat a large, stainless- steel pan over medium high heat.
Pat the breasts dry and season with salt and pepper.
Once the pan has reached the proper temperature, add the oil and 2 tablespoon butter.
Place the chicken breasts in the pan and cook until golden brown. You may need to turn your heat down to medium if it's sizzling too much.
Flip and continue to cook until just done. Alternatively, you could just sear the chicken and then finish in the oven at 350.
Once the chicken is cooked, remove from the pan and set aside. Place a tented piece of foil loosely over the plate.
Do not remove any of the solids or oil/ butter from the pan. Add the shallots and cook until translucent.
Add the remaining tablespoon of butter and the mushrooms.
Once the mushrooms have browned and their moisture has evaporated, deglaze the pan with the white wine.
Add the chicken broth and let the sauce reduce by two-thirds then add the coconut milk.
Let the sauce simmer and reduce until it's a sauce like consistency.
Add additional salt and pepper if needed then pour it over your chicken.
* For the freshest coconut milk make homemade coconut milk. (See video at this link.)
Recipe submitted by Kate, Highlands Ranch, CO
Published on September 22, 2012