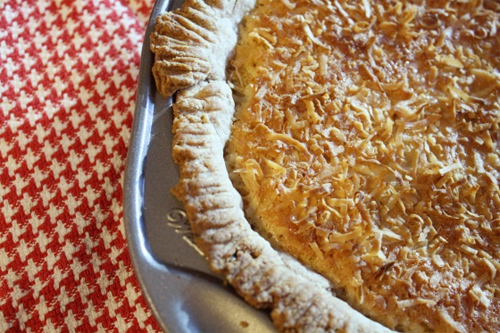 Dairy Free Coconut Pie
photo by recipe author
Servings: 10-12
Preparation Time: 1 hour 30 minutes
Dairy Free Whole Wheat Crust:
Coconut Pie Filling:
Crust Directions:
Mix dry ingredients together: flours, sugar, and salt. Add coconut oil. Use a pastry cutter to cut the oil into the dry ingredients. Add coconut milk a little at a time (you may not need any at all). Turn on a floured surface and knead several times. Roll dough into a 9 inch circle and transfer to a pie plate, using fingers to shape dough as needed.
Pie Filling Directions:
Preheat oven to 350 degrees F.
Mix together sugar and eggs. Add oil and flour and mix well. Add coconut milk and fold in 1 cup coconut. Add vanilla and mix well. Sprinkle remaining coconut on top of the pie. Pour into your whole wheat pie crust.
Bake in preheated oven for 50-55 minutes.
* For the freshest coconut milk make homemade coconut milk. (See video at this link.)
Recipe submitted by Kelly, Charlotte, NC
Published on August 1, 2011