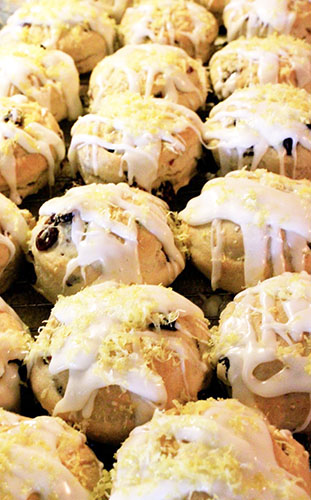 Dairy Free Cranberry or Blueberry Lemon Scones
photo by recipe author
Servings: 10
Preparation Time: 25 minutes
Scones
Preheat oven to 450° F.
In a bowl stir together flour, sugar, baking powder, lemon peel, salt, and baking soda. Using a mixer or pastry blender, cut in shortening until mixture resembles coarse crumbs.
Add dried fruit; toss until well mixed.
Make a well in the center of the flour mixture. Add coconut milk all at once. Stir until just moistened.
Place dough on a lightly floured surface. Knead dough by folding and gently pressing for 10 – 12 strokes, or until dough is nearly smooth. Pat or lightly roll dough until 1/2 inch thick. Cut dough with a floured round cutter.
Place dough circles on an ungreased baking sheet. Bake about 10 minutes, or until golden. Remove biscuits from baking sheet; cool about 5 minutes.
After cooling drizzle scones with prepared Lemon Glaze if desired and serve warm.
To Make Lemon Glaze
In a small bowl combine 3/4 cup powdered sugar, 1 teaspoon fresh lemon zest, 1 teaspoon fresh lemon juice, and 3-4 teaspoons fresh coconut milk; enough to reach glazing consistency.
To Make Fresh Homemade Coconut Milk
*For the freshest coconut milk make homemade coconut milk. (See video at this link.)
Featured Product

100% USDA Organic

Evaporated Whole Cane Juice

Sun Dried, Herbally Purified, Unrefined

Fairly Traded, Sustainably Produced

Pesticide and Herbicide Free

Heavenly Organics' rare and exclusive 100% organic whole cane sugar comes from the pristine foothills of the Himalayan Mountains. Produced by a cooperative of small farmers who practice an ancient method of removing impurities from organic whole cane juice by using wild-crafted herbs and then sun drying. This sugar is made without the use of commercial dryers which preserves the natural nutrients and minerals and reduces our carbon footprint. The pure, golden brown crystals have a rich sugar cane flavor and are the perfect 1:1 substitute for everyday use and baking. Enjoy it in your favorite recipes, coffee, tea and smoothies.

Tropical Traditions has tested this sugar for the presence of the herbicide glyphosate.
Amalia from Milford, NE won $50 for this recipe and photo! Submit your recipes and photos here!
Published on February 22, 2017