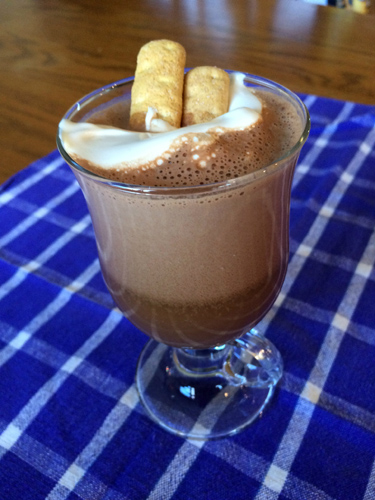 Dairy Free S'mores Coffee With Maple Marshmallow Cream
photo by recipe author
Servings: 2
Preparation Time: 30 minutes
S'mores Coffee:
Maple Marshmallow Cream:
Maple Marshmallow Cream:
Beat the egg whites and the cream of tartar with a mixer on high speed until soft peaks form.
Place the maple syrup and salt in a saucepan and bring to a boil over high heat. Continue boiling until mixture reaches 240 °F (soft ball stage) to form a syrup. When the syrup reaches 240 °F, slowly start to drizzle the syrup into the beaten egg whites to warm them. Gradually add the remainder of the syrup to the egg whites, while continuing to beat the mixture on medium high for about 7 minutes. Add the vanilla and mix until cream is stiff and glossy, another 1 or 2 minutes.
This mixture makes several cups of marshmallow cream. It will last several days in the refrigerator.
S'mores Coffee:
Warm the coconut milk in a small saucepan. Place hot coffee, warm milk, Coconut Cream Concentrate, chocolate chips, coconut oil, cocoa powder and cinnamon into a blender and blend for 20-30 seconds on high speed.
Pour blended coffee into 1 or 2 mugs and add marshmallow cream and graham cracker sticks, if desired.
*For the freshest coconut milk make homemade coconut milk. (See video at this link.)
Carol from Libertyville, Illinois won $50 for this recipe and photo! Submit yours here!
Published on May 4, 2015