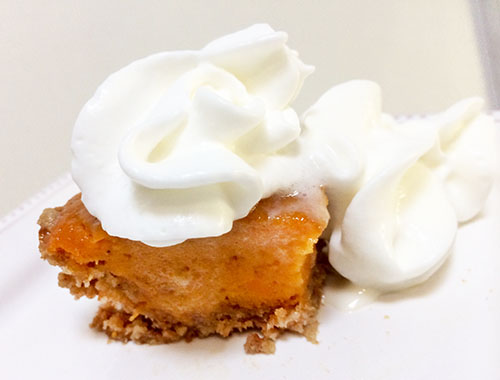 Dairy Free Sweet Potato Tarts
photo by recipe author
Servings: 8
Preparation Time: 1 hour 30 minutes
Bake and cool sweet potatoes and peel when fully cooled.
Grease or spray muffin pans and set aside. Preheat oven to 350° F.
In a food processor finely mix oats, nuts, shredded coconut, flour, salt, sugar then add coconut oil. Pulse a few times until mixed well. By the heaping tablespoon, press crust mixture into 8 standard muffin tins on bottom and sides. Bake for 15 minutes and set aside to cool.
In same food processor mix the sweet potatoes, coconut cream concentrate, eggs, maple syrup or raw honey, sugar, and salt until smooth. Add optional spice now, if using. Divide the mixture into the muffin pans and bake for 30 to 40 minutes until top is no longer tacky. Cool on wire rack.
Serve as is or with whipped cream or a drizzle of maple syrup.
Cheryl from Carbondale, IL won $50 for this recipe and photo! Submit your recipes here!
Published on October 17, 2016