​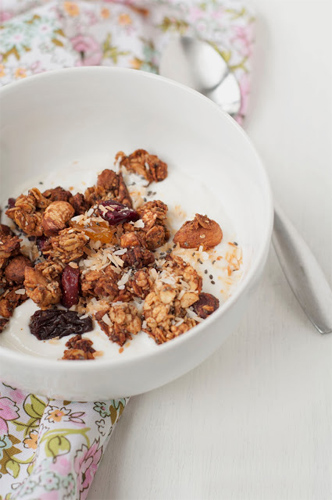 Date-Sweetened Granola with Peanut Butter,
Coconut, and Dried Fruit Recipe
photo by recipe author
Servings: 4 cups
Preparation Time: 40 minutes
1 cup water
10 pitted dates
2 tablespoons peanut butter
1 tablespoon
coconut oil
1/2 teaspoon
cinnamon
1/2 teaspoon sea
salt
2 1/2 cups old-fashioned
rolled oats
1 cup assorted raw nuts, roughly chopped
2 tablespoons chia seeds
1 cup unsweetened
coconut flakes
1/2 cup dried
fruit (berries, cranberries, and cherries are my favorites)
Preheat oven to 325 degrees ºF.
Bring a small saucepan with water and dates to a rapid boil over high heat. Lower heat to medium and cook, stirring occasionally until it is the consistency of chunky applesauce. Allow to cool and puree in a blender or food processor. Pour into a small bowl with the peanut butter, coconut oil, cinnamon, and salt.
In a large bowl, combine the oats, nuts, and chia seeds. Then pour the date mixture over the oats and stir until evenly combined.
Spread in a thin layer on a cookie sheet and bake for 30-35 minutes stirring halfway through and checking closely near the end to make sure it doesn't burn.
While the granola is baking, pour the coconut flakes into a large dry saucepan and place over medium heat. Toss and stir frequently until the coconut turns a light brown color and becomes fragrant. Remove from heat and quickly transfer to a container to stop the browning.
Pour the coconut flakes and dried fruit over the warm granola and allow to cool before transferring to an airtight container.
Loretta from Waukesha, WI just won $50 for this recipe and photo!
Submit yours here.
Published on April 16, 2014