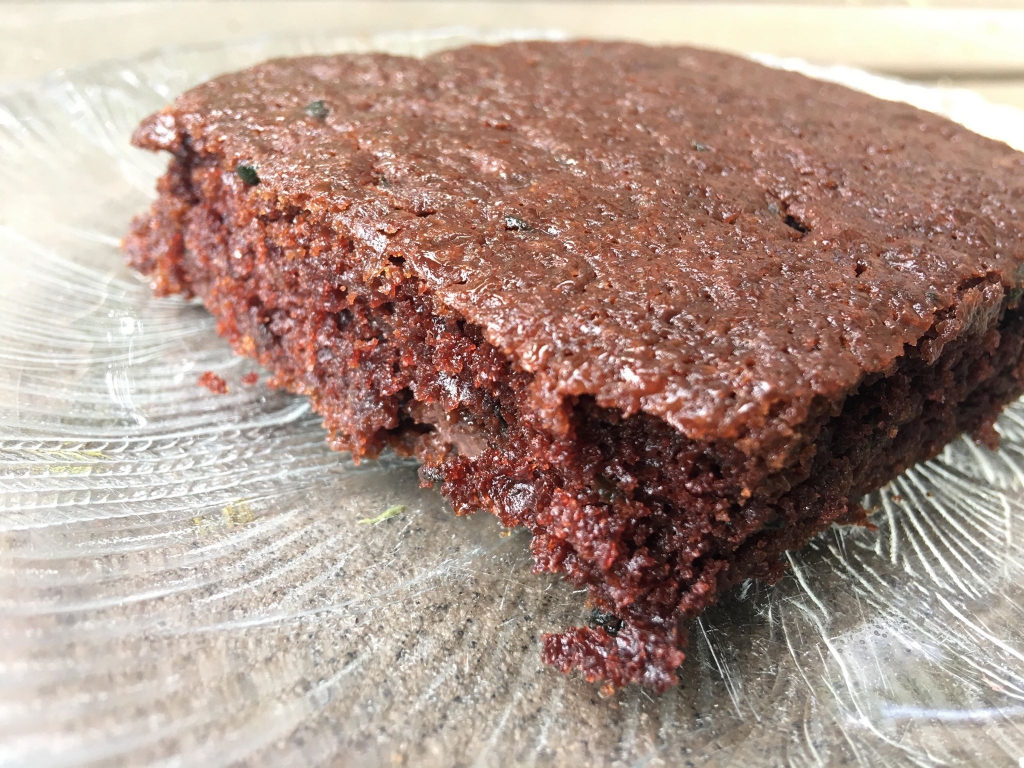 Double Chocolate Zucchini Brownies
Servings: 12
Preparation Time: 35-40 Minutes
Ingredients:  
6 Tablespoons Grass-fed Butter 
6 Tablespoons Pure coconut oil or *Gold Label
2 cups chocolate chips, reserve 1 cup 
1/4 cup cocoa powder 
3/4 cup sugar 
1 teaspoon vanilla extract 
1 egg yolk 
1 teaspoon non-aluminum baking powder 
3/4 teaspoon Himalayan pink salt 
2 heaping cups finely shredded zucchini (squeezed dry) 
1 & 1/4 cups flour 
Directions: 
Preheat oven to 350 degerees. Lightly coat 9x13 baking pan with coconut oil, coating edges well.

Use a double boiler (or glass bowl fitted on top of pot of water), heated on medium-low. Add butter and coconut oil, half of the chocolate chips, and cocoa. 

Stir until melted and mixed well. Do not overheat or boil water under bowl.  

Transfer melted chcocolate mixture to larger bowl. Add sugar, vanilla, and egg yolk and mix until well-combined. Add baking powder and salt, and mix again. Squeeze out excess moisture from zucchini and add to chcolate mixture. Add flour and remaining chocolate chips. 

Combine, but do not overmix. 

Spread batter evenly into greased pan.  Bake for 25-30 minutes until the edges are set. The middle will be soft, and toothpick inserted should come out clean. 

Do not overbake or brownies will be dry.  

Let brownies cool before cutting into 12 even pieces for nice large brownies. 

Enjoy warm with glass of ice cold milk, or chill for a delicious fudgy treat!


Lynelle in Columbia, Kentucky won a $50 Healthy Traditions gift certificate for this recipe and photo! Submit your recipes and photos here! 


*Gold Label Coconut Oil will give you a robust punch of a coconut flavor, whereas Pure Coconut Oil will be tasteless. Choose and enjoy!
Published on August 21, 2019