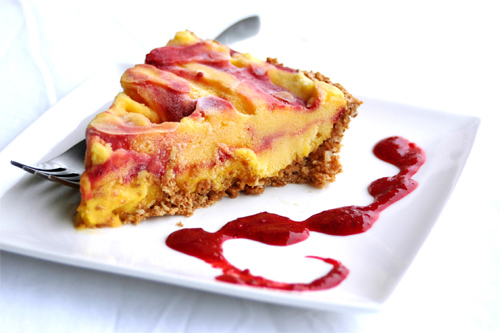 Easy Mango Blackberry Swirl Ice Cream Pie Recipe
photo by recipe author
Servings: 4 – 8 slices
Preparation Time: 1 hour or more
Crust:
1/3 cup egg whites (about 3 eggs)
1/3 teaspoon salt
1/3 cup whole brown sugar
1 1/2 cups coconut flakes, toasted
Blackberry Sauce:
3 cups fresh or frozen blackberries
3-5 tablespoons whole brown sugar or raw honey
1 tablespoon arrowroot powder
pinch of salt
Mango Frozen Kefir:
2 cups pureed mango
1 1/2 cups kefir (you can use regular coconut milk* or coconut kefir for a dairy-free option!)
2-4 tablespoon raw honey, if needed
2 or 3 egg yolks (leftover over from the meringue pie)
pinch of salt
Crust:
Preheat the oven to 350 F. Lightly rub coconut oil on a non-glass pie pan. Beat egg whites until frothy (I used my lovely KitchenAid mixture). Add sugar and the salt. Beat on high until stiff. Fold in toasted coconut flakes. Spread the mixture over the bottom and sides as evenly as possible. Be sure to get up the sides well. Bake for 15 to 25 minutes and watch it towards the end to make sure the crust doesn't get too brown. When crust is golden brown, remove from the oven and allow the crust to cool completely.
Blackberry Sauce:
Put everything in a blender and give it a whirl until smooth. Pour into a small pot and bring to a simmer over low medium heat. Simmer until it thickens slightly, about 5-10 minutes. Set it aside and allow it to cool. Stir a few times while it is cooling to prevent it from getting jelly-like.
Mango Frozen Kefir:
Put everything in a blender and let it whirl until smooth. Pour mixture into your ice cream machine maker and follow the maker's instructions. When done, scoop out about half the frozen kefir and spread evenly on the coconut meringue crust. Swirl some of the blackberry sauce on top. Spread the rest of the frozen kefir on top of the sauce and swirl in more blackberry sauce. Take care not to over mix it or it won't have that pretty swirling look when you cut the pie into pieces! Cover the beautiful ice cream pie with plastic wrap and foil. Put it in the coldest section of your freezer and freeze until very hard.
Use the extra blackberry sauce to decorate the plate or simply drizzle it on top of the pie.
* For the freshest coconut milk make homemade coconut milk. (See video at this link.)
Recipe submitted by Marillyn, Britt, IA
Published on July 16, 2012