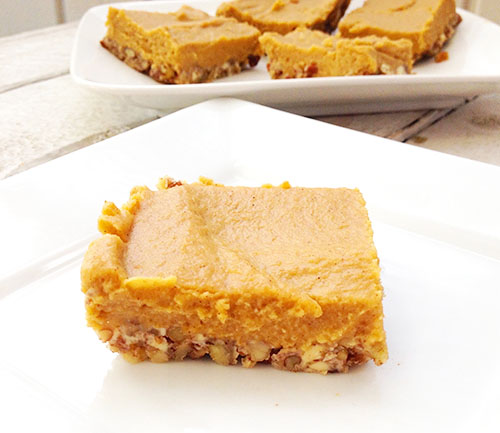 Easy No-Bake Gluten and Dairy Free Butternut Pecan Squares
photo by recipe author
Servings: 16
Preparation Time: 10 minutes
Crust:
Filling:
Put the pecan pieces in a food processor along with the coconut oil, vanilla, sugar, and salt. Pulse until you have a slightly chunky mix. Firmly press the pecan mixture into an 8 x 8 inch baking pan.
In a medium saucepan, warm the butternut squash puree with sugar and cinnamon. When it is at a simmer, turn off the heat and stir in the vanilla, salt, and coconut cream concentrate. Whisk until the coconut butter is completely incorporated.
Spread the butternut mixture over the pecan crust.
Refrigerate for at least two hours, then cut into squares and serve.
Angela from Longmont, CO won $50 for this recipe and photo! Submit your recipes here!
Published on October 3, 2016