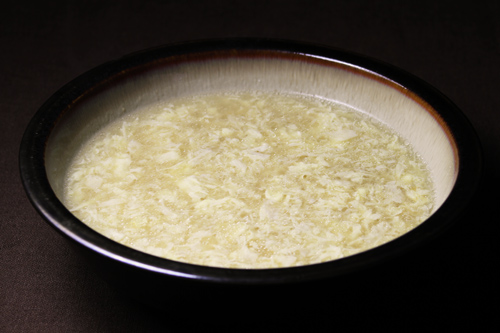 Egg Drop Soup with Coconut Oil
Prepared by Sarah Shilhavy, Photo by Jeremiah Shilhavy
Servings: 5 Preparation Time: 5 minutes
Pour chicken stock, water and ground ginger into a medium sized pot. Heat until hot but not yet simmering. Add a little water to the cornstarch to make a slurry and stir into the stock. Bring stock to a simmer, stirring constantly until it has thickened slightly.
Drizzle the beaten eggs into the gently simmering soup with a fork. Push cooked egg aside as you drizzle more in. Towards the end you can just slowly pour the rest of eggs into the soup.
Season the soup with a little soy sauce (or salt) to taste and stir in coconut oil. Serve and enjoy!
Recipe courtesy Sarah Shilhavy
Published on January 5, 2011