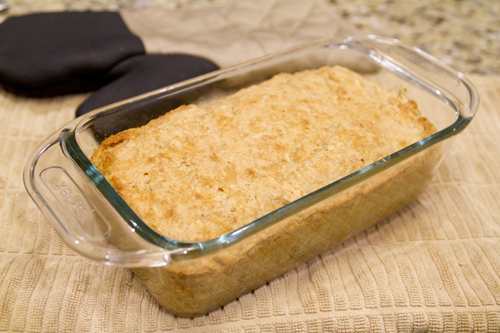 Einkorn Beer Cheese Bread Recipe
Prepared by Sarah Shilhavy, Photo by Jeremiah Shilhavy
Servings: 6
Preparation Time: 10 minutes
1 cup whole grain
einkorn flour

2/3 cup all purpose
einkorn flour

1 teaspoon salt
1 tablespoon baking powder
1 teaspoon sugar or
honey
1-2 cups shredded or chopped cheddar cheese
11-12 oz cold beer
2 tablespoons
coconut oil, melted
Preheat oven to 375 degrees ºF. Grease a loaf pan with extra coconut oil and set aside.
Whisk all dry ingredients together in a medium bowl. Add cheese, beer and coconut oil and stir just a few times to moisten. Mix as little as possible – batter will be lumpy.
Bake in preheated oven for 40-50 minutes or until toothpick tester comes out clean. Run a butter knife along edges of bread after cooling for a few minutes to loosen and turn out onto a cutting board to slice and serve.
Recipe courtesy Sarah Shilhavy
Published on March 7, 2014