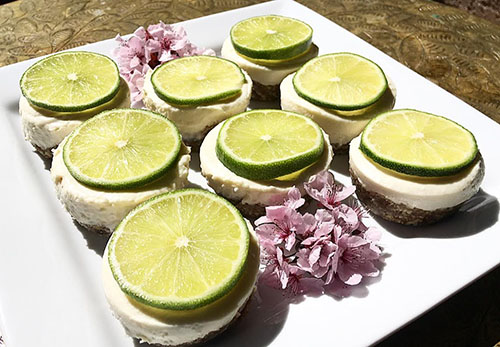 Exceptionally Tangy No Bake Gluten Free Mini Lime Cheesecakes
photo by recipe author
Servings: Approx. 24
Preparation Time: Approx. 20-25 minutes active + chilling time
Raw Base:
Fresh Lime Filling:
2 cups freshly squeezed lime juice
3 cups cream cheese, room temperature
2/3 cup raw honey
2 tablespoons fresh lime zest, optional
2 teaspoons gelatin
Source ingredients that you know are organic and pesticide free.
Raw Base:
Pulse ingredients in a food processor until mixture sticks together; some texture should remain.
Press mixture evenly into muffin tins and chill in the fridge while you make the lime filling.
Fresh Lime Filling:
On low, heat all ingredients, except gelatin in a small pot. Once heated, whisk in the gelatin. Bring mixture to boil then reduce heat & allow to simmer for a few minutes. Remove from heat.
Allow the mixture to cool a little before pouring evenly into chilled bases. Allow to set up in the fridge for a few hours or overnight. Overnight is best.
Mini cheesecakes are best enjoyed straight from the fridge while still cold. Before serving, decorate with your favorite organic fresh fruit pieces + edible or decorative pesticide free flowers.
Recipe and photo by Orissa. Do you have a creative recipe that uses coconut in some form? Submit your coconut recipes and photos here for a chance to win a $50 gift certificate to Tropical Traditions!
Featured Product

A Raw Product from the Wilderness

Healthy Traditions Organic Raw Honey comes from the frontier areas of Canada, and is only harvested during a 6-week period in the summer. Healthy Traditions is the exclusive source of this premium organic honey in the U.S. Most commercial honeys available on the market today come from bee farms, where the bees are controlled within a certain area and get their pollen from usually only one kind of flower. Many of the plants that produce these flowers (clover, orange blossom, etc.) are grown with pesticides and fertilizers as well. In addition, almost all honeys on the market are pasteurized in high heat and filtered, removing many of the beneficial nutrients and enzymes.

Healthy Traditions Organic Raw Honey has not been subjected to the heat of processing, only warmed enough to flow (same temperatures the honey would see inside the hive). We select only premium honey that is pure, smooth and creamy, with the consistency of soft margarine at harvest. It contains live yeast and enzymes, because it has not been processed. It also contains pollen because it has not been filtered—merely screened.

Fine textured crystals are characteristic of totally pure, unheated, unprocessed, raw honey. Properly crystallized honey has a fine, smooth texture. Crystallized honey preserves natural goodness and doesn't drip. The more rapidly honey crystallizes the finer the texture will be. It will also turn harder over time as it crystallizes. Truly raw honeys do not deteriorate with age, but like fine wines, continue to age and develop into more complex tastes.

Certified Organic Raw Honey from Canada

In order for honey to be certified organic, the beehives must be placed in isolated areas miles from the dense population, industry, traffic congestion, and farm fields treated with chemicals and landfills. Second, a bee's flying range is determined by their natural instinct which tells them to stay within their natural four mile range from the hive location. Finding area which can be certified organic is extremely difficult, which is why there are so few certified organic honeys on the market. Tropical Traditions sources its honey from hives in the wild frontier areas of Canada.

These regions are a rich source of wild vegetation that produce some of the finest honey in the world. The USDA and Canadian Organic Certification implies a rigorous set of standards and conditions that must be adhered to by both the producer (beekeeper) and the packager. All aspects of the honey production including the source of the nectar, forage area of the bees, management of the bees, extracting process, transportation, "lot" management, processing temperature, integrity (no co-mingling with non-organic honey), screening, and, packaging materials, are taken into account in the certification process.

Try some, and we think you'll agree that there is no finer honey in North America! Raw, organic, Canadian honey, available exclusively in the US through Tropical Traditions.
Published on March 13, 2017