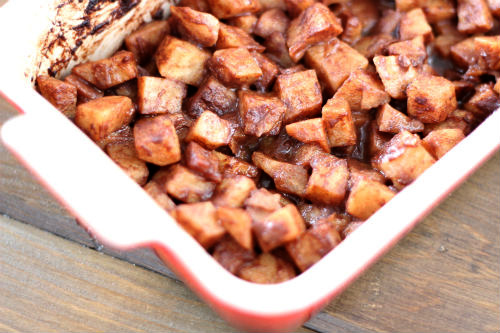 Faux Baked Cinnamon Apples Recipe
photo by recipe author
Servings: 3-4
Preparation Time: 15 minutes
3 cups jicama, cubed and boiled* (1 small jicama)
2 tablespoons coconut oil
1-2 teaspoons cinnamon (I like them with 2 teaspoons)
sweetener of choice, to taste
dash of salt
Heat the oven to 350 degrees ºF.
Cut the coconut oil and place the jicama in a casserole dish. Sprinkle with cinnamon, sweetener and salt.
Bake covered for 30-40 minutes or until soft, stir after 20 minutes. I removed the lid for the last 10 minutes to remove the moisture.
Serve hot with some Dairy Free Vanilla Ice Cream.
Quick notes
To boil the cubed jicama, cover it with water and boil for 30-45 minutes (depends on size of cubes) until soft. This can be done ahead of time, store in an airtight container in the refrigerator.
Variations
You could combine some almond flour, pieces of butter or coconut oil and sweetener to make a topping. I'd add the topping once you have removed the lid to finish cooking. You could turn on the broiler for a few seconds to brown the topping too!
Recipe submitted by Kate, Highlands Ranch, CO
Published on February 6, 2014