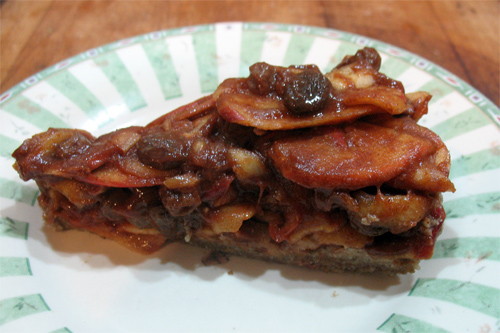 Favorite No Bake Apple Pie
photo by recipe author
Servings: 12
Preparation Time: 30 minutes
Date/Seed Crust:
1 3/4 cups sunflower seeds
1 cup Medjool dates, no pits
3/4 teaspoon salt
1 tablespoon coconut oil
Apple Pie Filling:
6 organic Fuji apples, cut into very thin slices
2 tablespoons ground cinnamon
1 cup organic raisins
1 tablespoon lemon juice or juice of small lemon
1/3 cup Medjool dates, no pits
2 small pears or 1 extra large pear
1 tablespoon Coconut Cream Concentrate
Process the sunflower seeds until ground well. Remove 1/3 cup of the ground seeds and sprinkle around the bottom of a large deep dish pie plate. Add the dates, salt and coconut oil to the remaining ground seeds and process well.
Shape into a ball and roll the dough flat, then use your hands to press the dough up the sides of the plate.
Place the apples into a large bowl. Stir the cinnamon, raisins and lemon juice into the apple slices. Blend the dates, pears and coconut cream concentrate well in a blender. Add this puree to the apples and stir well to incorporate.
Store the bowl of apple slices in the fridge until ready to serve. Store the pie crust in the fridge as well. When ready to serve, fill the crust with the apple mixture and cut into 12 slices. Enjoy!
Recipe submitted by Linda, Woodland, WA
Published on May 2, 2011