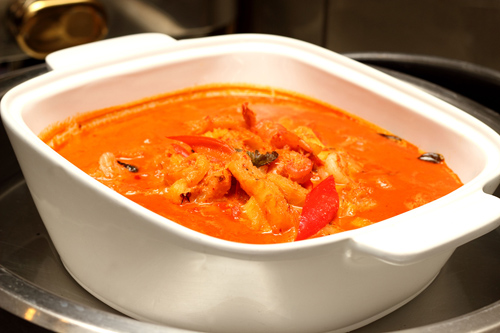 stock photo
1 medium sized onion, chopped
28 ounces coconut milk
1 – 4 teaspoons Thai red curry paste, or to taste (for kids, I use ½-1 teaspoon)
½ cup vegetable stock
¼ cup fish sauce
1 tablespoon honey
1 tablespoon molasses
1 11-oz package frozen sugar snap peas
1 8-oz can sliced bamboo shoots, rinsed & drained
1 8-oz can sliced water chestnuts, drained
1 15-oz can Chinese mushrooms, drained
Cilantro
Brown meat and onion together, drain and set aside.
In a wok or large fry pan, bring to boil 4 ounces coconut milk, curry paste, vegetable stock, fish sauce, honey and molasses. Simmer for 15 minutes. Add remaining ingredients, including remaining coconut milk. Simmer for 15 minutes more. Stir in browned meat and onions.
Garnish with cilantro and shredded coconut and serve with rice. I really like this with sushi rice, rinsed well and steamed.
Recipe submitted by Peggy, Jupiter, FL
Published on September 10, 2008