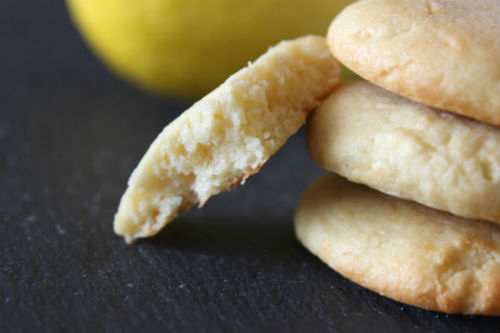 Flourless Coconut Lemon Cookies
photo by recipe author
Servings: 12-15
Preparation Time: 10 minutes
3/4 cup
coconut cream concentrate, softened*
1/4 cup cashew butter (I prefer fresh grind, jarred has added oils)
2/3 – 3/4 cup granulated sugar
1 egg
1/4 cup FRESH lemon juice, strained (about 1 lemon)
1 tablespoon grated lemon peel
1 teaspoon baking powder (gluten and corn free)
dash of sea
salt
Preheat oven to 350 degrees ºF.
Place the softened coconut cream in a food processor and pulse until smooth.
Add in the remaining ingredients and process until combined and lemon peel has disappeared.
Depending on how soft your coconut cream was, you may need to place the dough in the refrigerator for a few minutes to harden.
Once dough is hard enough, roll it into about one inch balls. Place the balls on a parchment lined cookie sheet and slightly press down. The cookies will spread slightly.
Bake in preheated oven about 10-12 minutes or until slightly brown around edges.
Let the cookies cool for a few minutes to help them set up then transfer to a cooling rack.
Store in an airtight container and refrigerate if you prefer a harder cookie.
Notes:
*To soften the coconut butter, place the open jar in a saucepan of simmering water. Most have a thick layer of coconut oil on the top, remove that to use for something else. You want to use all butter in this recipe or the oil will cause these to spread too much!!
Kate from Highlands Ranch, CO just won $50 for this recipe and photo!
Submit yours here.
Published on May 28, 2014