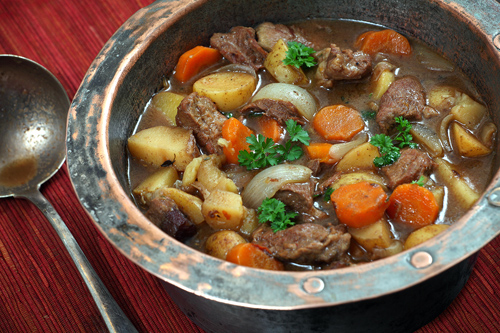 stock photo
A "stewp" is a cross between a stew and a soup. With this recipe, you can have it either way. You can also add the salt either at the table or while cooking.
2-3 tablespoons virgin coconut oil
1 1/2 pounds lamb stew meat, in 1.5 inch cubes
About 1/2 pound lamb bones
1/2 large yellow onion, sliced
Coconut flour (optional, if you want a stew rather than a soup)
2 large cloves garlic, cut into matchsticks
1 rib celery, cut into 1 inch pieces
2 small carrots, cut into 1 inch pieces
2 tomatoes, diced
2 medium red potatoes, diced
Black pepper, to taste
1 or 1 1/2 tablespoon red wine vinegar
1 1/2 cups water
2 teaspoons paprika, divided
2 teaspoon cumin, divided
Salt, to taste
Coconut flour, as needed
Heat coconut oil in a large skillet (if you want to dirty an extra pan) or Dutch oven. Trim fat off lamb stew meat and add to pot. Add lamb bone.
Brown the meat and bone for a few minutes, stirring to get as many surfaces as possible cooked. Add remaining ingredients EXCEPT for the second teaspoon of paprika and cumin, the salt and coconut flour.
Cover pot tightly and bring to a boil, then set heat as low as possible. The stewp must simmer gently the entire time and NOT BOIL. After about an hour, add additional paprika and cumin. Cook gently until meat is tender, stirring a few times. DO NOT BOIL.
Check the thickness of the soup/sauce and add coconut flour if desired to thicken to desired consistency.
Also add water if desired or if you add extra vegetables, such as green beans. The smaller amount of wine vinegar gives the dish a subtle tartness. Add more to taste.
Recipe submitted by Simi, Los Angeles, CA
Published on June 7, 2009