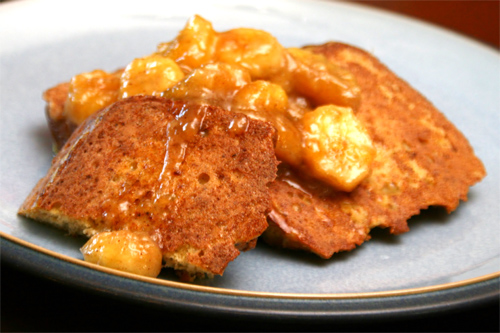 French Toast with Caramelized Bananas Recipe
photo by recipe author
Servings: 2
Preparation Time: 25 minutes
French Toast:
Caramelized Bananas:
Mix eggs, milk, vanilla, cinnamon and honey together until well blended.
Preheat griddle and melt coconut oil.
Dip bread slices into mix and make sure they are fully saturated. Cook bread on griddle for 2-3 minutes per side, or until browned on both sides.
For Caramelized Bananas:
Heat a separate pan and melt coconut oil. Add bananas, honey and cook until caramelized.
Divide French toast among two plates and top with bananas. Enjoy!
Recipe submitted by Melissa, Sacramento, CA
Published on April 3, 2013